Magic Chance asks you to set up card tricks that rely on probability. You have 2 tries to set up the cards to match the probabilities described. Some trials show cards that cannot be moved. Some rules are based on the shape (heart, crown, moon, etc.) while other rules are based on the color of the shape.

To place a card, select it from the bottom, and then click on the table to place it. You can keep clicking to place the card multiple times. You can also click on a card on the table to remove it, or you can click the Clear button to remove all of the cards. Cards that are on the table at the beginning of the round cannot be moved. Click Submit once the necessary cards are on the table.

A basic trick you might see is:

Chance of a crown = 3 x chance of a heart.

This means that you should put enough cards on the table so that the odds of drawing a crown are 3 times the odds of drawing a heart. So if there are 4 cards on the table, you'd expect you'd draw a crown 3 times as often as you'd draw a heart. You should place 3 crowns on the table for every heart.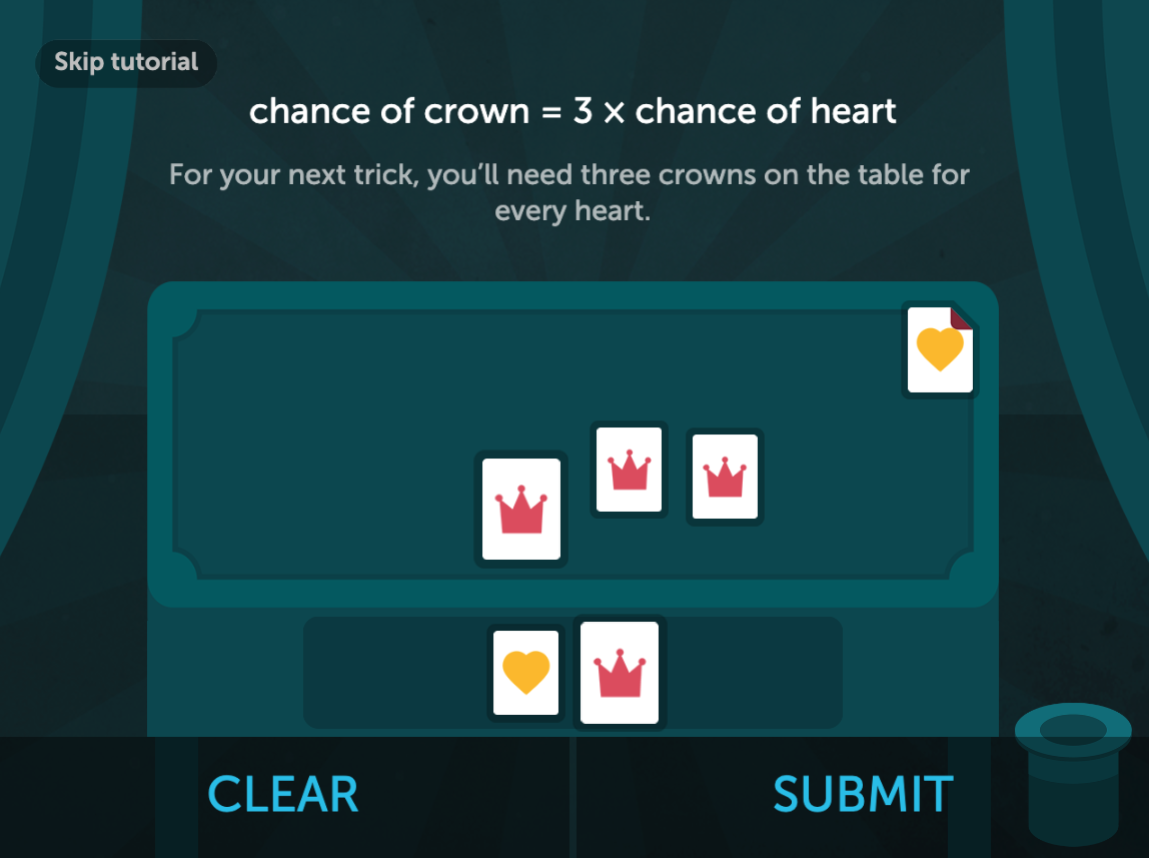 Some trials include a tooltip which offers tips on setting up the probability. Simply tap the question mark (?) below the statement to open up the tooltip.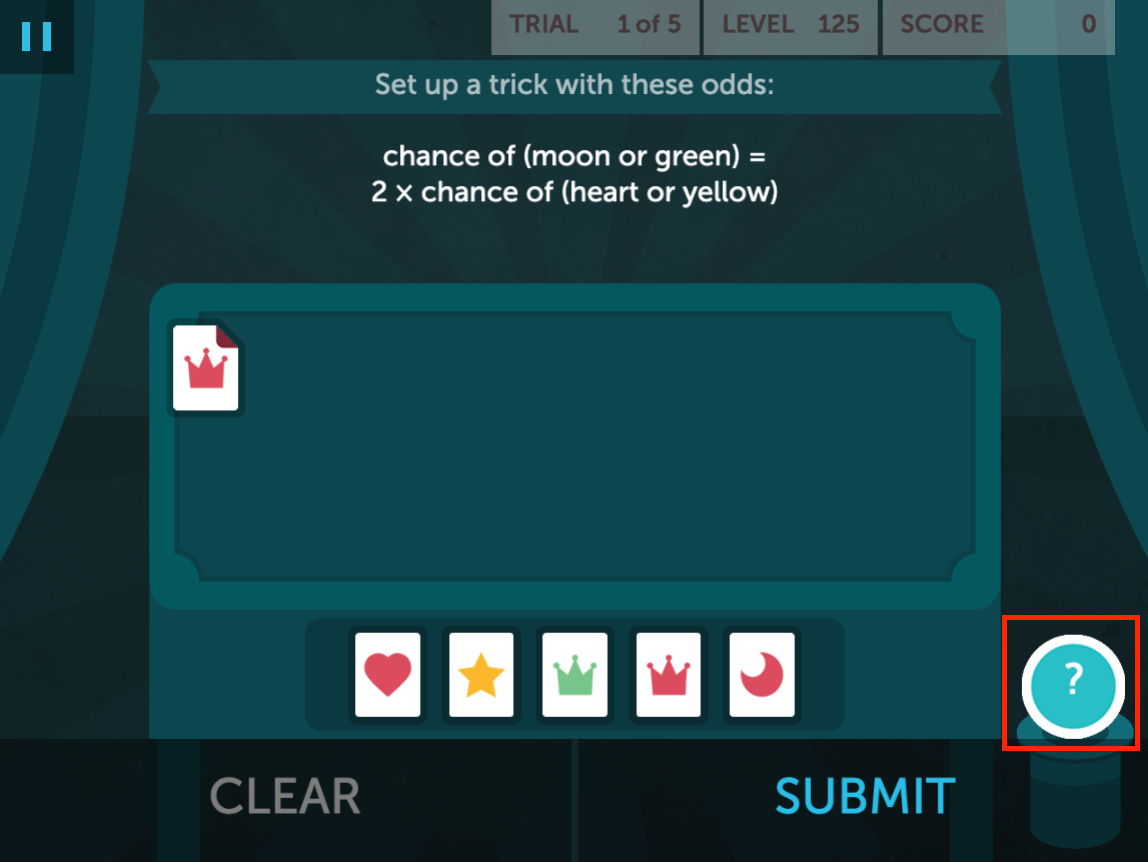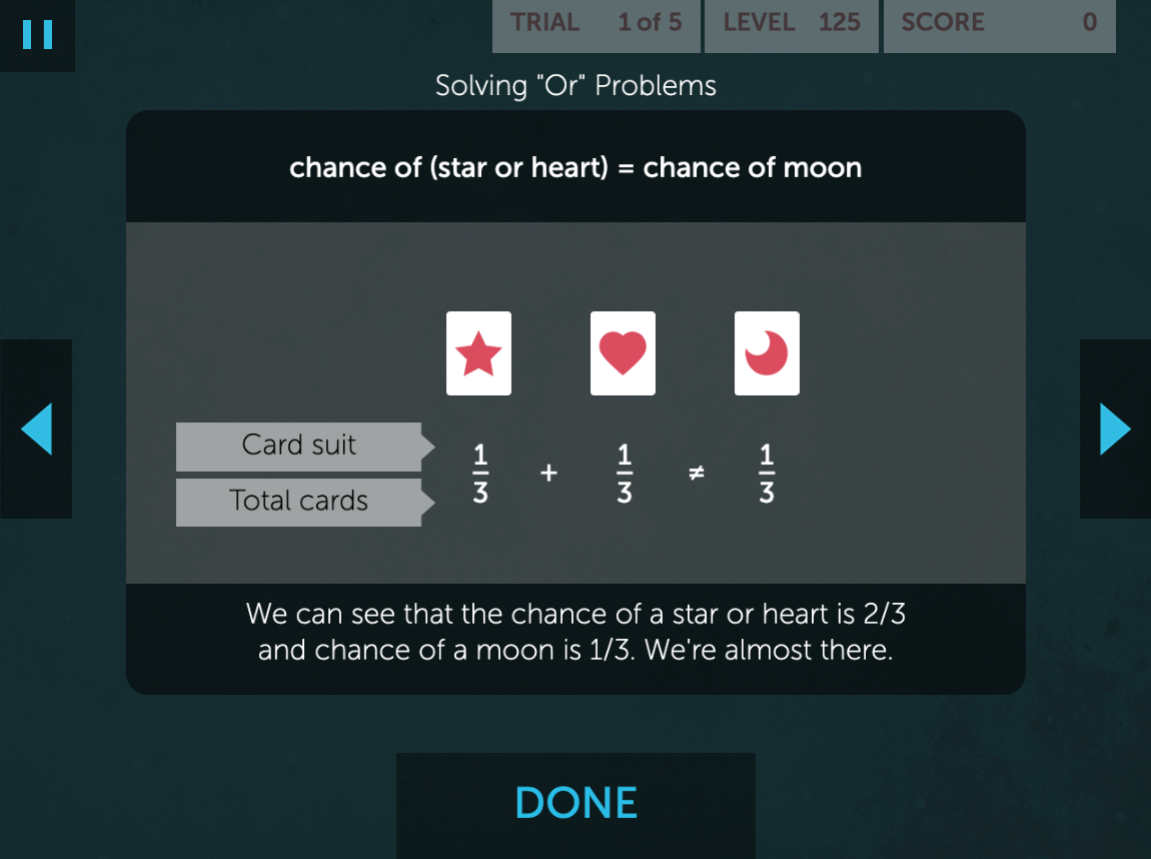 You can review instructions for any of our games at any time. On the website, click How to Play before starting the game. Or, during the game, clicking the pause (II) button in the top-left corner and then selecting How to Play.

In the mobile app, then tap the question mark (?) to the left of the Play button before starting. Or, during the game, tap pause (II) at the top-left of the screen and then tap How To Play from the menu that appears.
Scoring & Levels
Your score is based on both your accuracy and the level you are playing at. The more quickly you answer, the higher your level increases. You earn more points for answering correctly on the first try. 400 is the highest level one can reach.