A tile in Disillusion has two traits: a Color (red, yellow, and blue) and a Symbol (circle, plus sign, and diamond.) Additionally, the tile may be positioned Tall or Wide. In this instance, Tall refers to vertical tiles and Wide refers to horizontal tiles.
For Tall pieces, only the color of the tile matters. When placing a Tall piece, make sure that it matches the color (red, yellow, or blue) of all the pieces that it touches.

For Wide pieces, symbol is what matters for the tile. When placing a Wide piece, make sure that it matches the symbol (circle, plus sign, or diamond) of all the pieces that it touches.

It doesn't matter whether the tiles on the board match the orientation (Tall or Wide) of your tile. The only attribute you need to pay attention to is whether your Tall tiles match the tiles on the board by color and your Wide tiles match the tiles on the board by the symbol.
The tiles themselves must also physically fit together in addition to matching colors and symbols. The shaded areas don't appear if those tiles don't fit together – even if the colors and symbols match.
If you end up placing a tile in an incorrect space, then that space locks for a short period of time as a penalty.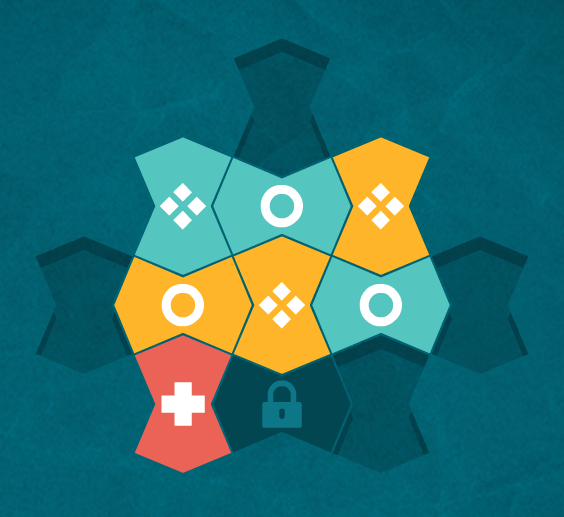 You can review instructions for any of our games at any time. Simply click on the question mark (?) at the bottom of the game screen (located next to the pause (II) button.) A pop-up appears asking if you want to learn how to play.
If you're playing on our app, then tap the question mark (?) to the left of the Play button before starting. Or, during the game, just tap pause (II) at the top-left of the screen and then tap How To Play from the menu that appears.
Scoring & Levels
To unlock the next level in Disillusion, you need to match enough tiles and clear all 4 boards before time runs out. You must play at the highest level you unlocked in order to unlock more tiles. The level you're placed at is based on both your speed and performance during the game, rather than the specific number of tiles you match.
The level screen displays the levels as milestones of 12, 18, 24, 30, 36, 42, 48, 54, etc. You won't see a new illusion until you reach a new milestone. However, actual levels are not in increments of 6. If you're between 2 milestones, then the level screen shows you the exact level you're currently on. For example, when you're at a level greater than 42 but less than 48, the tile that would normally show 42 may show any number between 42 and 48.
Disillusion determines a difficulty for the next time you play that is deemed optimal even if you do match the specified number of tiles.